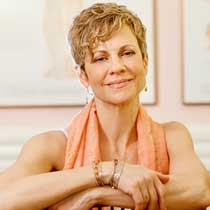 Meg R.
Acupuncturist "MS, LAc"
"If we want women to adopt a healthful lifestyle," explains licensed acupuncturist and wellness consultant Meg Richichi, "we must set them along that path with the knowledge and tools to create educated choices regarding their health."
An integrative women's health care provider with a renowned practice in New York City, Meg blends both Eastern and Western medical modalities to treat women with hormonal imbalances and other seemingly unmanageable conditions. Making enormous strides in the field of infertility, Meg's expertise has been the subject of several interviews, including NBC's Nightline, NPR, Vogue, and Real Simple magazine.
Meg's extensive studies and experience include training at a leading hospital in Vietnam, herbology and shamanic healing practices in the Brazilian rain forest and training in holistic-functional medicine in the U.S. Today, this worldly healer focuses on women's health issues, from stress related hormonal imbalances and infertility to weight issues and acute and chronic pain disorders.
In fact, many of Meg's stressed-out clients are entrenched in the cut-throat world of fashion and publishing. As she said in an exclusive interview with Vogue magazine, "Under that kind of pressure, the body goes into survival mode; fight or flight." Meg's application of acupuncture and Chinese and Western medicine is thus intended to help women embrace a positive, anxiety-free mindset. Once there, it may be possible to finally enter motherhood.
---
Professional License
25 000616
Certifications
New York Division of Professional Licensing Services
Specialized Training
Tri-State College of Acupuncture, 1995