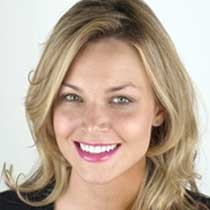 Carolyn B.
Registered Dietitian "MS, RD"
Carolyn Brown has mastered the art of moderation. "Nutrition is an always-changing and expanding field," she says. "My goal is to dig through new research, decipher it, and deliver the coolest and most worthwhile info."
Carolyn Brown is a registered dietitian with Manhattan's upscale private nutrition practice, Foodtrainers. But as Carolyn admits, she wasn't always a healthy eater. While battling the "freshman 15" during her days at Tulane University in New Orleans (arguably a Mecca of fatty food), she developed what many women and men do: a love-hate (or hate-hate) relationship with the elliptical.
It wasn't until Carolyn embarked on a trip to South America and Southeast Asia that she discovered her passion for nutrition and the importance of consuming foods because they nourish your body—not because they satisfy a late night craving for beignets. She was introduced to new foods and cultures on her spiritual and ultimately gastronomical journey, and this life-changing trip sparked an interest in cross-cultural cuisine that eventually led Carolyn to her current career in nutrition.
A self-proclaimed "wanna-be-locavore" (who won't assume the full title since she loves pineapple too much), a yogi, a runner, and a dodgeball enthusiast, Carolyn is truly dedicated to living life to the fullest. Life should be full of fruits and vegetables, full of activities that keep you fit, and definitely full of chocolate chip cookies—every now and then.
---