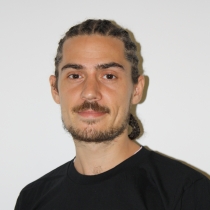 Samuel M.
Massage Therapist "LMT"
Sam Michael is a third generation New Yorker, a second generation writer and a first generation massage therapist.
Born and raised in The Big Apple, Sam is the grandson of Warren Miller, an American writer whose most noteworthy novel, The Cool World, was famously turned into a movie depicting race issues and street life in 1950's Harlem. Appropriately enough, Sam currently lives in this eclectic west side neighborhood, and is currently working on a novel himself.
When he's not typing his thoughts out on paper and constructing plots and prose, Sam is a talented massage therapist who brings his work to client's homes in Manhattan.
In addition to his acclaimed bodywork methods (he was featured in Time Out New York in December 2007), Sam also practices yoga and martial arts. He is decidedly in tune with the inner workings of the body and mind, and seeks to teach clients how to find a calm, meditative state by letting go of the tensions that exist outside their apartment windows.
---
Professional License
27 019355
Certifications
New York State Board of Massage Therapy
Specialized Training
Swedish Institute, New York, NY 2003
Current & Previous Employers
Kur Skin Lab (New York, NY); Soho House (New York, NY); Greenhouse Holistic (Brooklyn, NY)