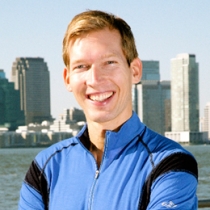 Stefan A.
Personal Trainer
Stefan Aschan was born and raised in a country that has been called the Alpine Powerhouse—you know it as Austria. From an early age, he gained insider knowledge for retaining a youthful appearance, managing weight, building strength and attaining health.
Growing up in an environment where adults in their 50s appeared no older than 30 years of age, Stefan quickly learned about how to maintain a fit figure through regular exercise and healthy dieting. Little did this natural athlete know that moving to a large city (from a small village with just twenty humble homes) would one day give him an advantage in the fitness field.
Fast forward: After attaining multiple certifications in fitness, a masters in nutrition and a culinary arts degree, Stefan hopped the pond, arriving in New York with only two bags. He quickly fell in love with the city, and he hasn't left since.
Stefan's workouts have been widely recognized on an international scale. Driven, career-oriented, successful and time-pressed professionals praise his programs, whether CEO, celebrity, model, accountant, editor, doctor or stay-at-home mom.
---
Certifications
American Council on Exercise (ACE)
Specialized Training
Aerobics and Fitness Association of America
American Council on Exercise Certification
Charles Poliquin Strength and Fitness Training Certification
C.H.E.K. Exercise Coach
Reebok Aeurobic Sport Academy Certification
Club Danube Gymnastic Certification
Jane Waller Pro Education Workshop
Johnny G Spinning Certification
Body Bump Certification
Aigen, Culinary Arts Degree (Ennstall, Austria)