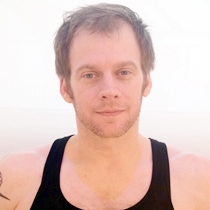 Brian W.
Yoga Instructor
Certified Core Strength Vinyasa Yoga instructor Brian Williams is responsible for bringing "Rock and Roll" Yoga to New York City. And his clients couldn't be more thrilled.
Brian infuses his group classes with "humor and music" and his private sessions with "tons of adjustments, feedback and lots of useful information." He strives to make his teaching disciplined and inspirational, with a strong focus on alignment and sequencing, while keeping it all "fun and juicy."
"I think we should laugh and play while we sweat and work," Brian says. "I know that people would be a little happier if they would listen to loud rock and roll once a day, or sing in the shower. I encourage my students to practice yoga as if they were home alone, and to live their lives authentically."
In his private practice, which Brian claims to love, he visits clients' homes in Manhattan and Brooklyn and works to design a practice that is suited to their individual needs and goals. These can include developing flexibility, strengthening and toning, losing weight, or simply learning to relax and let go.
"Do you want a sweaty workout, or a guided meditation session with restorative postures, reiki and aromatherapy using fine essential oils?" Brian asks his private clients. "You get the luxury of a class designed just for you, with all the attention focused on you. I also email our sequences and poses back to you so that you can practice on your own, with complete alignment and breathing instructions. Remember, you guide the journey."
As a yogi, Brian honors ahimsa, the Sanskrit principle of non-harming. "It means kindness, friendliness and thoughtful consideration of other people and things," Brian says. He passes this mantra on to his clients, along with other wisdom. "I believe in the adage that we should act as if what we are doing is the most important thing in the world, while realizing that it doesn't matter at all," he says.
---