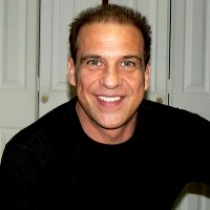 Joseph W.
Massage Therapist "LMT"
Massage expert Joseph Weger is a household name in the bodywork biz. Not only was he dubbed "Best Male Massage Therapist" in New York five years in a row before moving to Kentucky, but as New York Magazine notes, Joseph is the only person to be voted as the "Best of the Best" twice in a year.
As one can imagine, Joseph's client Rolodex includes athletes, celebrities and some of Manhattan's most renowned entertainment professionals. Television personalities Melissa Rivers, Kim Rhodes and Amy Barnett, Broadway star Linda Eder and RKO Pictures owner Ted Hartley—among too many others to recall—have sought out this massage master's "hands from heaven" for years.
Since graduating at the head of his class from the Institute of Psycho-Structural Balancing in Santa Monica, Calif., Joseph has worked tirelessly to build his reputation as one of the best-known private at-home masseuses around. Joseph's combination of aromatic oils and various forms of massage lead to his recognition as one of the Top 10 Alternative Healers in New York City, and his bodywork is said to have preventative health effects, relieving sinus conditions, vertigo and prostate trouble.
Joseph currently resides in Union, Kentucky and practices as a Kentucky Licensed Massage Therapist, lending his bodywork expertise and custom blends of therapeutic-grade oils to clients in The Bluegrass State. With his foldout massage table, arsenal of oils and characteristic enthusiasm in tow, Joseph brings his healing touch to client's homes, offices and hotel rooms in the Union, Kentucky area.
---
Professional License
009365-1 New York KY-4104 Kentucky
Specialized Training
Licensed Massage Therapist, Swedish Institute of Massage, New York, NY (1995-1996)
Certified Massage Therapist, Institute of Psycho-Structural Balancing, Santa Monica, CA (1991-1992)