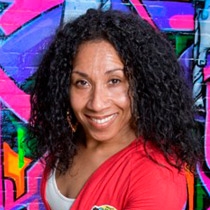 Deena C.
Personal Trainer "CPT"
A personal trainer, Deena Clemente has a background in choreography and fitness (with the muscular body to prove it) and has collaborated throughout her career with music legends Foxy Brown, Jay-Z, Will Smith, Diddy and Biggie.
Deena's dancing roots can be traced back to The Bronx, where she honed her skills while attending neighborhood house parties, outside park jams, block parties, talent shows and local cable station programs during an era that was ripe with hip hop culture.
Through her company, Tru Essencia Dance and Wellness, Deena continues this hip hop tradition with her signature class, Snap, Pop n' Rock. Happiness, wellness and wholeness are at the core of Deena's enterprise, its slogan which reads "NYC Style Hip Hop for Health."
Deena holds personal training sessions at her west side studio as well as at client's homes, gyms and office gyms in Manhattan. Clients learn how to create daily rituals that center around peace, love, light, and of course, eating healthy and exercising regularly.
A personal trainer for more than 15 years and an amateur fitness competitor, Deena knows firsthand what it takes to meet wellness goals: proper nutrition, cardiovascular exercise and strength training. Sessions with Deena combine full body circuits, where she'll implement two to three exercises targeting different muscle groups, as well as plyometrics, calisthenics, core condition and flexibility drills.
---