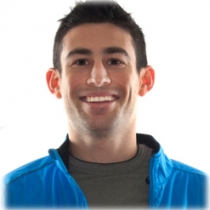 Steve E.
Personal Trainer
Not everyone is a fitness fanatic, but everyone can get in great shape. By exploring individual preferences, limitations (i.e. time and injuries) and personalities, Steve works with clients to make fitness and nutrition an important part of their lives—as comfortably as possible.
Originally from Southern California, Steve has always been interested in sports, fitness, and the workings of the human body. He began working out regularly while preparing for high school soccer and became fascinated with discovering more efficient and effective ways to naturally enhance athletic performance and physical appearance.
Steve has lived and trained clients in Huntington Beach, Los Angeles, and currently, New York City. He continues to actively volunteer in youth athletics and coach soccer while running a private training practice in Manhattan.
Steve offers in-home and outdoor private and semi-private training. Most training sessions take place in Central Park, Riverside Park or Carl Schurz Park. While Steve prefers to train in the open air, he can also turn any space—even cramped Manhattan apartments—into a gym.
---
Specialized Training
Certified Strength and Conditioning Specialist, National Strength and Condition Association
Certified Personal Trainer, American Council on Exercise
CPR & AED Certified
National Soccer Coaches Association of America (NSCAA), Advanced Regional Diploma
American Youth Soccer Organization, Advanced Certification
Positive Coaching Alliance, Double Goal Coach