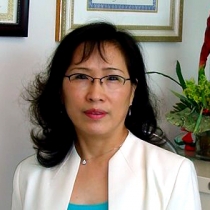 Wanyun Z.
Acupuncturist
Highly trained in both Western medicine and Traditional Chinese Medicine, Wanyun Zhong combines her knowledge to treat patients with a wide variety of diseases and conditions.
Wanyun Zhong, a licensed acupuncturist at H & Z Acupuncture, is certified by the National Certification Commission for Acupuncture and Oriental Medicine and licensed by the Composite State Board of Medical Examiners in Georgia.
Wanyun studied western medicine and Traditional Chinese Medicine, including acupuncture, in China. She graduated from Xi'an Jiaotong University School of Medicine in China and was an attending neurologist in one of Beijing's top hospitals, the China-Japan Friendship Hospital.
What does acupuncture feel like?
When the very thin acupuncture needles (.25 mm in diameter) are inserted through the skin, patients usually do not feel any pain or feel only very slight pain. When needles reach the acu-points and the qi is stimulated by needle manipulation, the patient may feel some soreness, numbness, distention or heaviness around the acu-points, or feel a kind of sensation traveling up or down the meridian, the bodys energy-carrying channels. Such feelings usually are the sign of effective treatment.
---