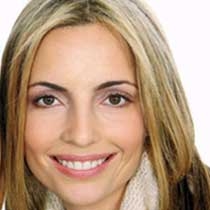 Lauren S.
Registered Dietitian "MS, RD"
"Chances are," says Manhattan's go-to dietitian, "you already know what foods are healthy. So why arent you eating them?" Lauren Slayton, owner and founder of Foodtrainers, is passionate about helping her clients close the gap between what they "know" and what they actually do.
Lauren received her undergraduate degree from Tulane University, where she graduated cum laude with honors in Sociology. She completed her Masters degree in Clinical Nutrition at New York University.
Prior to establishing Foodtrainers in the fall of 2001, Lauren worked at St. Lukes Roosevelt Hospital in the obesity research unit and served as a nutritionist at Equinox fitness clubs. Both of these positions provided Lauren with clinical and counseling experience.
Lauren conducts frequent nutrition lectures and teleconferences on topics ranging from "Running and Weight" to "Organics 101." In addition, she has written for and been quoted in numerous media outlets, including print articles for websites and magazines, as well as television programs. Showcased on her highly reputed resume are Allure, Marie Claire, Cosmopolitan, Cooking Light, Harpers Bazaar, Hamptons, Self, Fitness, WebMD, The New York Post, John Stewarts Daily Show, ABCs Eyewitness News, The Early Show, Fox News, Mike and Juliet and The Martha Stewart Show.
Committed to maintaining a healthy lifestyle beyond nutrition alone, Lauren is an avid runner, tennis player and skier. Her favorite fruits are blackberries and pears; her favorite vegetable (so hard to pick!) is beets; and her favorite splurge is brie.
---