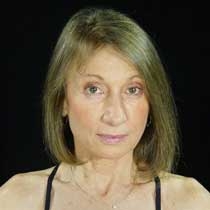 Deborah C.
Yoga Instructor "CPT, RN"
Can you envision how you want to feel, look and live? Deborah Caruana, owner of the Upper East Side studio Vital Signs Fitness, wants to help you break any barriers standing in the way from achieving the most "vital" version of yourself.
Deborah is a well-rounded wellness coach with a background in nursing. She offers extensive training in private and small group yoga, Pilates and personal training aimed at both challenging and relaxing the mind, body and soul.
The full range of her experiences began with training top celebrity personalities in Manhattan 25 years ago. Requests to provide private sessions prompted this self-starter to embark on a career in fitness and wellness. Today, Deborah offers her highly-reputed services in her uptown studio—featuring a floating wood floor—and in client's homes and offices in Manhattan.
Grounded by nature, and also kind of heart, Deborah is serious about getting results while having a good time. She embodies and embraces client's limitations and potentials, exploring the most effective ways to move past physical obstacles with grace and ease.
Deborah is particularly inspired to share her knowledge of the age-old systems of yoga and contemporary fitness schools of thought.
---
Specialized Training
Certified Medical Exercise Therapist, American Academy of Health, Fitness and Rehab (AAHFRP)
Certified Yoga Instructor, Ishta Yoga (500 hours of training)
Certified Yoga Instructor, Yoga Works (200 hours of training)
Certified Personal Fitness Specialist, National Academy of Sports Medicine
Certified Maternity Specialist for Pre- and Post-Natal, Maternal Fitness