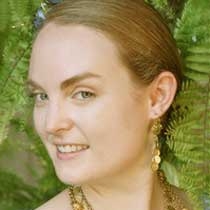 Ashley F.
Acupuncturist "LAc, MSTOM"
When it comes to the art of Traditional Chinese Medicine, Ashley Flores—a licensed acupuncturist, a nationally certified Chinese herbalist and a certified Shiatsu practitioner—has certainly done her homework.
Ashley studied Traditional Chinese Medicine and Bodywork at Pacific College of Oriental Medicine in Chicago, graduating with a Masters of Traditional Oriental Medicine and a certificate in Asian Bodywork Therapy. Thirsty for more, Ashley continued her education at Zen Shiatsu in Evanston, where she earned a certificate of Zen Shiatsu.
While at Pacific College, Ashley learned numerous approaches to using touch, acupuncture and botanical medicine for healing purposes, as well as techniques for treating pain, internal disorders and mental-emotional imbalances.
In addition to her private practice, Four Flowers Wellness, Ashley is the Coordinator of Prescription Services at Inner Ecology, a botanical pharmacy and prescription service in Chicago, Ill. and an instructor in Chinese Medicine Theory at Zen Shiatsu in Evanston, Ill.
---
Professional License
198000954
Certifications
Illinois Department of Financial & Professional Regulation
National Certification Commission for Acupuncture and Oriental Medicine