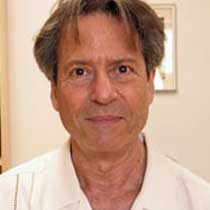 Steven G.
Acupuncturist "BS, Dipl Ac, LAc"
A Traditional Chinese Medicine practitioner for more than 15 years, Steven Gordon specializes in women's health, sports acupuncture, and integrative cancer care.
The founder of the Flatiron Acupuncture & Herbal Health Center, Steven combines acupuncture and Chinese herbal medicine with nutritional and dietary therapy to provide effective natural solutions to patients' specific health needs.
Steven holds national certifications in acupuncture and Chinese herbal medicine. He studied at the Tai Hsuan College of Acupuncture and Oriental Medicine in Hawaii, at the Blue Poppy Institute, and trained in acupuncture for the cancer patient at Memorial Sloan-Kettering Hospital in New York City.
Steven made the decision to pursue a path as a holistic medical practitioner many years ago, when he experienced an ongoing urinary tract infection that doctors couldn't successfully treat for two years. He inadvertently discovered that lifestyle was the cause—he was allergic to a cream his girlfriend used—and realized that individual patients need to be treated as a "whole person," not an assortment of symptoms.
Today he combines the Eastern therapy of Traditional Chinese Medicine with a caring, whole-person approach to target the roots of problems rather than symptoms. He treats patients with a wide assortment of conditions, including allergies, Bell's Palsy, chronic pain, depression, impotence, infertility, irritable bowel syndrome and autoimmune diseases like arthritis.
Breast and Reproductive Health
As a practitioner, Steve developed a focus on women's health issues after his sisters were diagnosed with breast cancer. Here he draws on his training as a certified Chinese herbologist, as medicinal herbs are the primary treatment for obstetrical and gynecological diseases in Traditional Chinese Medicine.
Sports Acupuncturist
Steven was a member of the National Sports Acupuncture Association for over 10 years and continues to specialize in acupuncture sports medicine. Steven has studied with master acupuncturists and practices advanced techniques such as Dr. Tans Advanced Balance Method, Master Tungs acupuncture and I Ching acupuncture.
---
Professional License
# 000655 NYS
Certifications
National Certification Commission for Acupuncture and Oriental Medicine
New York Division of Professional Licensing Services
Specialized Training
Tai Hsuan Foundation College of Acupuncture and Herbal Medicine, 1995
Certification in TCM gynecology from the Blue Poppy Institute