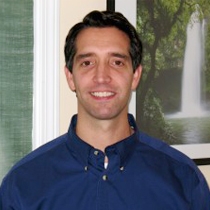 Geoff D.
Acupuncturist "LAc, MAc"
An expert in Traditional Chinese Medicine, Geoff DePaula, a licensed and nationally certified acupuncturist, strives to restore his clients' health and to help them "live a life of vitality and joy."
Geoff's practice, Root and Branch Oriental Medicine, derives its name from his wellness philosophy. Geoff believes that the treatment of a client's main health complaint can lead to the healing of other symptoms that may seem unrelated. The "root" problem, in other words, can help restore the "branches."
To Geoff, the body is a dynamic structure, "like an ecosystem." The interrelated and interdependent systems—mental, emotional, respiratory, digestive, gynecological—all work collectively and influence one another. He and his staff are on hand to help with all sorts of conditions, but they most often see clients for pain treatment, digestive disorders, respiratory disease, gynecology and immune/energy enhancement. They pride themselves on truly individuating in diagnostics, as no two cases are ever alike.
According to Geoff, another part of his job is to educate clients on how acupuncture and Chinese medicine can help them. "It's really about creating optimal health," he says, and "teaching how to keep it there through holistic lifestyle education." Geoff believes in acupuncture's "incredible ability to heal the body," and he is dedicated to guiding his clients to shape a healthier lifestyle and gain peace of mind.
---
Professional License
#208015
Certifications
National Certification Commission for Acupuncture and Oriental Medicine
Massachusetts Board of Registration in Medicine
Specialized Training
White Pine Institute, Traditional Chinese Herbal Medicine