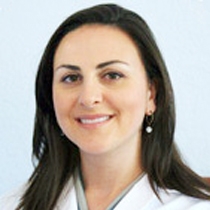 Irena V.
Cosmetic Dentist "DDS"
A graduate of the prestigious Advanced Education in General Residency program at New York Universitys School of Dentistry, Dr. Vaksman has years of experience in both cosmetic and clinical practices. Currently a restorative dentistry instructor at University of the Pacific School of Dentistry, Dr. Vaksman is devoted to providing patients with the best possible care and state-of-the-art technology.
Dr. Vaksman says the most important thing she teaches patients is the value of good oral hygiene at home and regular dental visits. Whether patients are in her office for a check-up, teeth whitening, or Porcelain Veneers, healthy teeth and gums are a prerequisite for a beautiful smile.
A beautiful smile means a healthy smile, the dentist says. Red and swollen gums are not only unappealing, but also can affect your general health and well being.
Dr. Vaksman is a Bay Area local with a love of skiing and hiking. She returned to San Francisco after 10 years in New York and Las Vegas, and now lives with her husband and their sons Charlie and Jack.
---