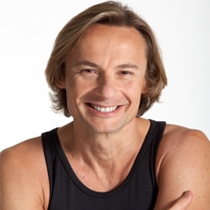 Daniel L.
Pilates Instructor
Daniel Loigerot brings over two decades of international experience to DL Fit, his Pilates studio in Soho, New York City. Along with being one of the foremost wellness trainers, he has managed several successful fitness centers in the US and abroad in France.
Appropriately enough, Daniel fell in love with Pilates in one of the most romantic places in the world, and has been exploring its many possibilities ever since. The precision, control and effectiveness required of Pilates is what attracted this Marseille, France native to the practice, finding that it could both refresh and energize the body.
Today, Daniel specializes in providing health, wellness and stress management programs for a star-studded roster of clientele, including Wall Street bankers, professional athletes (like NBA player Emeka Okafor), principal dancers (like Alvin Ailey) and CEOs (such as Tony Goldman and Phil Suarez). Among Daniel's most recognizable celebrity clients are Naomi Watts, Scarlett Johansson, Liev Schreiber and Fight Club actor Edward Norton.
Customized Workouts
Everyone has different physical needs, limitations and goals. During each session, Daniel works on proper posture and alignment to achieve these predetermined targets.
His signature DL Fit program combines the cardiovascular and cellular benefits of spinning with the core, arms strengthening and postural benefits of Pilates. The class uses High Intensity Cardio (spinning), The Pilates wall unit and Resistance Tubes Cords.
---