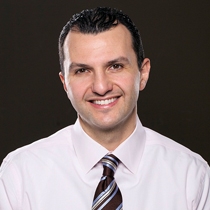 Marlen M.
Cosmetic Dentist
A graduate of New York University College of Dentistry, Dr. Martirossian completed his residency at the Lutheran Medical Center in Brooklyn. Dr. Martirossian is an active participant in the Department of Implantology at New York University College of Dentistry.
When he's not spending time with his wife, daughter and son, Dr. Martirossian continues his education and remains informed on the newest technologies in the field of dentistry.
His practice is as up-to-date as his intellect too. At the forefront of his profession, Dr. Martirossian offers the most cutting edge services, such as dental lasers to eliminate the need for stitches and, in some cases, anesthesia. Progressive digital X-rays, intraoral cameras and electric hand pieces can also be found in his office, as well as an advanced method for completing root canals quickly and effectively, known as rotary endodontics.
In addition, Dr. Martirossian works with VELscope Vx, a powerful non-invasive tool for assisting in the discovery of oral abnormalities, including the early detection of cancerous cells.
---