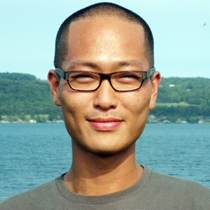 Minki K.
Structural Integration Professional
Minki Kim strongly believes that the body and mind are interconnected. With a background in clinical psychology, Minki now uses his hands—as opposed to his words—to find a balance between the two.
In 2009, after earning his certification at the New School of Structural Integration (NEWSSI) in sunny Laguna Beach, Calif., Minki opened a private practice in Astoria, Queens (located just a few blocks from the N and Q trains). Here, Minki greets clients daily with his calm-yet-inviting smile and his skillful touch.
A structural integration enthusiast, Minki's fascia-focused methods have been used to ease tension, chronic pain, rigidity and imbalances of the body and mind. The highly effective hands-on bodywork is delivered in a warm environment that focuses on caring and trust.
Best of all, Minki acknowledges that no two clients are alike, treating each as an individual with a unique personality, body type and personal history. Every structural integration session is meticulously tailored to address both physical and emotional conditions.
Philosophy
"I believe reorganizing, restoring and optimizing your overall posture and balance is paramount to long-lasting health and greater well-being."
Mission Statement
I am committed, grateful and excited to contribute my skills and energy to your personal path toward postural balance and alignment. I am blessed to witness your investment in long lasting change and integrity. Your decision to devote time, energy, and wages to improving your health and well-being is of the utmost importance to me. Delivering highly effective hands-on bodywork in a warm environment focused on caring and trust, I provide a tailored Structural Integration experience that addresses both the physical and emotional elements of balance.
---
Specialized Training
New School of Structural Integration, 2010 (Laguna Beach, Calif., USA)