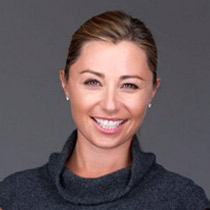 Laura C.
Registered Dietitian "RD"
Laura Cipullo isn't against snacks—in moderation. In fact, she uses the science of hormones to recommend meals—and snacks—that will help clients reach their goals.
A registered dietitian and certified diabetes educator with offices in New York City and Englewood Cliffs, NJ, Laura provides sound and ethical nutrition advice to both adults and children.
Laura's clients have the choice of one-on-one consultations, family nutrition sessions or group sessions with peers. Using a holistic approach, Laura meets clients at their level of readiness.
As a diabetes educator, Laura has the tools to help clients make balanced meal decisions that stabilize blood sugar and, consequently, hormone levels. Through her expertise and experience, she aims to help patients find their internal cues to complement their food intake and eventually rid themselves of the diet mentality.
Laura resides in the West Village in New York City with her husband and children and keeps a blog about nutrition.
---