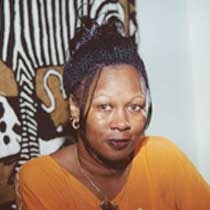 Mechelle D.
Yoga Instructor
As a former corporate professional working in IT, Mechelle Davis knows what it's like to experience the emotional, physical and financial challenges that come with a nine-to-five job. After discovering yoga, these stresses—and there were many of them—seemed to simply melt away.
Described as kind, patient, strong and accepting, Mechelle opened the doors to Yoga Hive Studio and Wellness, the first yoga studio in South Atlanta, in May 2006. She has been serving the community and inspiring others to find physical and metal balance through natural means of healing ever since.
Mechelle's classes and workshops offer a peaceful environment where students can explore, experience and evolve through the practice of yoga. As she says, "Your spiritual, mental and physical fitness can be empowered by incorporating yoga as a part of your lifestyle."
Whether stopping in for a single class or engaging one-on-one with Mechelle for a private yoga session, expect to renew, restore and relax your mind, body and soul through the sequence of asanas. As you learn to listen to your body, you'll likely stumble upon a new-found relationship with it as well.
---
Certifications
Yoga Alliance
Specialized Training
Clayton College of Natural Health, Natural Health and Herbology