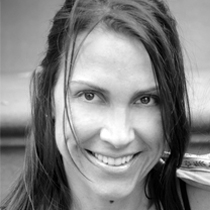 Stephanie C.
Yoga Instructor
Named New York City's best yoga teacher by New York magazine for two consecutive years, Stephanie Culen has an unbelievable gift for talking students through poses—and her classes, jam-packed with everyone from lithe dancers to muscled jocks, prove it.
A specialist in Power Flow, or vinyasa, yoga classes, Stephanie has been one of Equinox Fitness Clubs's most popular yoga teachers since 2001. Her inspirational and therapeutic teaching style offers students an empowering mixture of fun, sweat and heart.
Choreographed to music that ranges from Bob Marley to Indian tunes, Stephanie's freestyle vinyasa poses bridge mind, body and spirit. For the fitness-minded, the fast sequence of postures means added strength, flexibility, and a stronger core. It's no wonder so many flock to strike asanas with the athletic yogi.
Years ago, chronic lower back pain plagued Stephanie as a teenager, and yoga helped heal her. She continued practicing yoga through her 20s, when she was a dancer. Today, after two decades of practicing yoga and movement and training under teachers including Baron Baptiste, Stephanie encourages students to access awareness and gratitude from the higher self—something that may be a challenge in a hectic city like New York.
"I teach yoga, but I teach so much more than just yoga," Stephanie says. "When I work one-on-one with people, I try to bridge not just the transformational effects of yoga posturing and breathing techniques, but to bring to the table a bit of a spiritual practicality and a lifestyle check."
Though Stephanie sees herself as an eternal student, she works with high-profile clients, athletic teams and corporations (she leads Clarins skincare professionals in their Monthly Challenge meetings). She also organizes yoga retreats around the globe.
In addition to teaching yoga, Stephanie is founder of Boomerang Yoga "Yoga for a Cause", a non-profit organization that creates yoga events for people of all levels of participation to benefit and support non-profit organizations and philanthropic projects that advocate children's issues.
---
Certifications
Yoga Alliance Registered Yoga Teacher