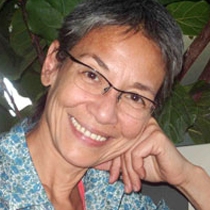 Anne S.
Structural Integration Professional "CR"
Anne Sotelo, a former modern ballet soloist and structural integration practitioner, has a personal relationship with Rolfing® and its ability to heal and prevent injuries while promoting health and well-being.
"My experience, as a dancer, choreographer and teacher, combined with experience rehabbing injuries to my neck, back, knees and feet, led to creating the Soma Syntax Studio in 1990," says Anne. "My work has expanded to include Rolfing®, cranial, visceral, Pilates, neuromuscular reeducation, kinesiotaping, PNF, muscle testing and gait training."
Anne, who is certified in Rolfing®, says that Soma Syntax means, "doing whatever it takes to achieve a more efficient use of muscles, conserve body energy, and create more refined patterns of movement." The Soma Syntax Method incorporates Pilates equipment, strength flexibility training, neuromuscular reeducation, and body movement awareness or ideokinesis, and if necessary Rolfing® and cranial sacral myofascial release.
Rolfing® is a form of hands-on manipulation and movement education developed over 50 years ago by pioneering movement expert Ida P. Rolf. Rolfing® structural integration works on the connective tissue to release, realign and balance the whole body. The result is enhanced posture and freedom of movement. Rolfing® can significantly reduce chronic stress and change body structure.
At Soma Syntax, Anne offers classes geared to benefit healthy and injured, amateur or professional, clients alike. Clients at any fitness level can experience the unique benefits of Rolfing®. "After almost 27 years of teaching and professional performance, I am convinced that the body must be balanced to achieve its full potential," Anne says. "Results can be dramatic."
---
Certifications
Rolf Institute of Structural Integration
Specialized Training
California Institute of the Arts, 1980 The Rolf® Institute, Certificate in Rolfing® and Rolfing® Movement, 1997 Colorado Cranial Institute, 4 levels, 1998-2000 Lymphatic Drainage Therapy Chikly Institute 2012-16 Neural Manipulation: Barral Institute 2011-17 Visceral Manipulation: Barral Institute 2012-17 MELT Instructor Level 2 2014-16
Current & Previous Employers
Soma Syntax Studio, Los Angeles 1991- present Cheyanne Kane MS, PT Blissful Body, Los Angeles 2008- present Dr Steven Parker D.C. Center for Pain Relief, Healing, and Wellness 16161 Ventura Blvd. Encino 2010