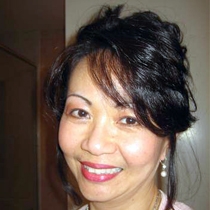 Peachy S.
Registered Dietitian "RD"
Busy professionals and parents ready to turn over a new leaf get inspiration, encouragement, and great nutritional advice from Peachy Seiden.
Peachy is a licensed and registered dietitian with a private nutrition counseling practice, Peachy's Health Smart. She counsels clients on weight loss and maintenance, health and nutrition and disease prevention, and also conducts weekly healthy cooking classes.
As a food lover, chef and nutritionist, Peachy takes a natural approach to weight loss that strives for the balance of eating nutritious foods (without self-deprivation), exercise and stress reduction. She teaches healthy cooking classes, and in the summer, helps clients learn to utilize farmer's markets in their daily menus. Diet pills, very low calorie diets, magic injections and miracle drugs are definitely not a part of Peachy's wellness coaching.
"I try to create a positive atmosphere by providing frequent positive feedback," says Peachy. "I love the field that I'm in because I am in a position to make people happy by helping them gain health as well as prevent the development of chronic disease. If I can make a small dent in helping create healthy and happy lives, I have accomplished my ultimate goal."
Peachy takes into your account your current life stage as she offers nutritional counseling. In addition, she guides you through real life situations that you may encounter as a parent, student, athlete or a busy professional. Eating healthy is important, but just as important is the skills to create these healthy meals.
A typical session involves discussing clients' health and medical histories, short- and long-term health goals, and formulating a plan for achieving goals.
Born in the Philippines, Peachy grew up in White Plains, NY and attended college in Chicago.
---
Certifications
American Dietetic Association