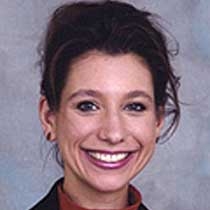 Nicole K.
Registered Dietitian "CD, RD"
When it comes to nutrition, everyone from professional sports teams and cookware companies to health clubs, day spas, restaurants and hospitals seek the wisdom of Nicole Kerneen-Fasules, a registered dietitian in the great state of Wisconsin.
At her private Midwest practice, Nicole takes a "whole-istic" approach to every client she meets. "Everyone that I work with has such a unique story," she explains. Her aim is to inspire clients to view their health from different perspectives by increasing their understanding about how food consumption and certain dietary behaviors relates to their bodies and lives.
Nicole is passionate about sharing her enthusiasm for nutritional health and wellness, and does so through local and national speaking engagements. She has worked at length with the food and beverage industries, and is a go-to for small businesses and restaurant owners who are looking to cultivate nutrition and fitness programs.
---
Certifications
American Dietetic Association