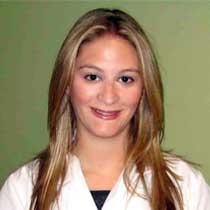 Lauren B.
Registered Dietitian "MHA, CDE, CDN, RD"
"The foundation for a healthy lifestyle involves self-empowerment," says Lauren Bloom, a registered dietitian whose private practice is just a hop, skip and a swim across the Hudson River.
Lauren works one-on-one with each of her clients to develop custom nutrition programs that are tailored to meet both their mental and physical needs. Equipped with the necessary tools, strategies and educational information, Lauren's clients learn to make practical choices that lead to a long, healthy and most of all, fulfilling life.
When New Jersey Cardiology Associates (NJCA) decided to expand their services to offer nutrition consultations, the premium practice turned to Lauren. She also provides dietary counseling and medical nutrition therapy at St. Barnabas Medical Center in Livingston, New Jersey, and has worked with New York Presbyterian/Columbia University Medical Center and Parker Jewish Institute in New York.
Mission
Laurens mission is to help her clients achieve an optimal nutritional lifestyle through the power of knowledge, a positive mind and a realistic attitude.
---
Certifications
American Dietetic Association
Specialized Training
Certified Diabetes Educator