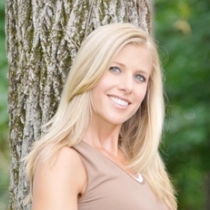 Kim F.
Registered Dietitian "MA, RD"
An advocate for holistic health for more than 15 years, registered dietitian Kim Flannagan offers the encouragement and guidance that clients need to lead healthy, happy and nourishing lives.
Kim is passionate about helping others become healthier and happier by taking control of their lives and bodies. As a certified health coach trained at New York City's Institute of Integrative Nutrition, she aims to help her clients develop a deeper understanding of the foods and lifestyle choices that work best for them.
"While working with clients, primarily struggling with weight management and eating disorders, I realized there was more to 'wellness' than meal plans and exercise regimes," Kim said. "Each one of us needs a different way of living and eating to help us meet our goals. Wellness is not simply the absence of illness. There must be a holistic approach that incorporates overall lifestyle changes applied to wellness in order to maximize potential."
Kim and her clients work together to discover the food and lifestyle choices that best support her clients. Making gradual, lifelong changes enables her clients to reach their current and future health goals. Kim offers phone consultations and in-person sessions.
Moreover, Kim believes that food is not the only source of nourishment in our lives. Relationships, career, activity, spirituality, and other essential forms of nourishment play an important part in total wellness. "These other forms of nourishment are often ignored, but are vital to a healthy, happy, and fulfilling life," she said.
---
Certifications
American Dietetic Association
Specialized Training
Institute of Integrative Nutrition