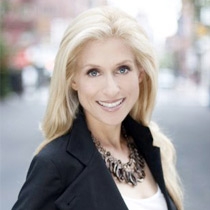 Heather B.
Registered Dietitian "CDN, RD"
Anyone who wants to learn how to change their lives by eating the right foods can gain the knowledge and skill to do so with the help of Heather Bauer—a nationally recognized nutritionist, a published author and above all, a devoted mother of three.
Since establishing Nu-Train (short for Nutrition Training) in 2001, Heather has guided thousands of people on a path of health and wellness, teaching them how to safely lose weight and maintain the results. She founded Nu-Train on the basic principle that in order to achieve a sustainable outcome, "a weight loss program must work with one's existing habits, not against them."
With this in mind, Heather accounts for both traditional nutrition science as well as other critical (and as she explains, often overlooked) lifestyle factors that can significantly affect an individual's progress. Taste, preferences and diet history are among these prominent elements.
In 2008, Heather published her first book, The Wall Street Diet, to spread this notion that even busy people can take responsibility for their nutrition and health—that is, given the right resources. Heather's second book, Bread is the Devil, offers tried-and-true strategies and a 21-day program to help readers abstain from common diet setbacks such as late night snacking and unhealthy travel habits.
---
Certifications
American Dietetic Association