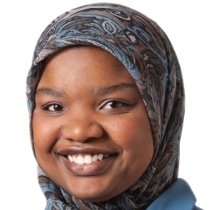 Hannah E.
Registered Dietitian "BS, CDE, LDN, RD"
Hannah El-Amin often sees clients with a history of failed diet attempts or emotional eating and strives to teach how to change one's life for the better through nutrition and wellness.
Hannah is a registered dietitian, licensed nutritionist, certified diabetes educator and the founder of Nutrition That Fits. She starts each session by gaining a thorough understanding of her client's needs and lifestyle. Together, they discuss what they are looking to accomplish through nutrition therapy as well as pertinent lifestyle patterns and medical history that may affect the outcome of their treatment program.
Through completely customized nutrition plans that fit her clients' needs and goals, Hannah wants to make the transition to eating well effective while still comfortable. Her intent is to provide advice that is reliable and effective but also "fits into your life in a way that is realistic to maintain."
Hannah often sees clients who are looking for help with diabetes, PCOS, pregnancy nutrition, weight loss, gastrointestinal disorders, endocrine related nutrition concerns or a simple desire to build a healthier diet. She is fascinated by "the power of diet and nutrition to improve one's health and well-being," and hopes to place this into the client's hands, so they can achieve results while moving "from feelings of shame to pride, from defeat to control and from confusion to confidence."
---
Certifications
American Dietetic Association