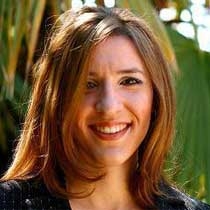 Alyssa C.
Registered Dietitian "RD"
It's the simple things in life, like knowing what kinds of food to eat, that empowers people to make healthy choices and to discover new levels of health and well-being, says Alyssa Chicci—a registered dietitian offering private nutrition counseling via phone, webcam and e-mail.
As Alyssa knows, all of her clients have unique relationships with food and dieting. With so many different reasons why a person may be struggling to manage their weight—whether due to blood sugar, cholesterol, blood pressure or other nutrition imbalances— Alyssa makes it her priority to first assess a client's personal history, goals and preferences with regard to food and physical activity. Using this information, she then creates a course of action that best suits her client's needs.
Alyssa devotes a large portion of her practice specifically to diabetics, and is particularly passionate about helping those individuals to acquire the right tools to manage their health. "Diabetes prevalence is skyrocketing," she says, "faster than the health care industry can accommodate." Much of diabetes management is in the hands of the patient, and yet many diabetic individuals are unsure of how to manage it. Alyssa aims to make this education and training available.
---
Certifications
American Dietetic Association
Specialized Training
Certified Diabetes Educator
Certified LEAP Therapist