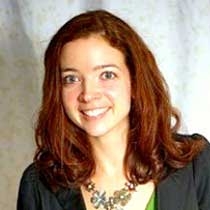 Adrienne R.
Registered Dietitian "RD"
For whole body health and long-term wellness, dietitian Adrienne Raimo recommends a plant-based, whole foods diet.
At her private Columbus, Ohio practice, One Bite Wellness, Adrienne assists individuals with a wide range of health issues by offering nutrition education and extensive support. Whether your concern is weight loss, peak performance, Celiac disease or pre-natal health, Adrienne has you covered.
"I believe my clients' goals are of the utmost importance. I am committed to helping you reach those goals, whether it is ameliorating a health condition like diabetes, Parkinson's and rheumatoid arthritis, or learning to bring healthier foods in your life or conquering sugar addiction," says Adrienne.
By providing nutrition education and support, Adrienne will guide you to find the food and lifestyle choices that best support you in building a life-long, firm foundation of health.
Adrienne's clients often seek her expertise to deal with fatigue, skin concerns, weight management, peak performance, nutritional confusion, food addiction education, natural energy enhancement, emotional eating and eating disorders.
Adrienne holds a degree in dietetics from Ohio State University, and has received additional certification from Cornell University's Plant-Based Nutrition Course, the Institute for Integrative Nutrition, and Columbia University's Holistic Health Counseling course.
What to Expect
A typical session includes a review of the client's food-related successes and challenges and a nutrition education component that focuses on how to cook whole grains, plan a menu, reduce cholesterol, eat mindfully, know the difference between good and bad fats, combat cravings naturally and more. The advice comes with support to make the changes, of course.
Nutrition Expert
Adrienne has been delivering nutrition lectures, teaching cooking classes, providing individual nutrition consultations, and guest speaking for corporate clients and the medical community since 2006.
Adrienne has worked with the following companies to provide nutrition education: Whole Foods, Central Ohio Parkinson's Society, Ohio Public Employees Retirement System (OPERS), Imagination 2 Burn, New Albany Country Club, and the Ohio Herb Education Center. She has also provided nutrient analysis via calculation for the Cincinnati Zoo, Zapico Foods, and Oswald Companies.
---
Certifications
American Dietetic Association
Specialized Training
Certification in plant-based nutrition, Cornell University, 2010
Certification in holistic health counseling, Columbia University
Certification, Institute for Integrative Nutrition