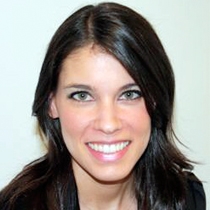 Rebecca B.
Registered Dietitian "RD"
Before she started treating jetsetters and Upper East Side ladies, Rebecca Baer counseled teens and adults at weight-loss camps and community centers.
Rebecca joined Tanya Zuckerbrot Nutrition as a registered dietitian in 2009, following a dietetic internship at Hunter College in New York City. Her experience working in both clinical and community nutrition began at Camp Shane, a weight-loss camp for boys and girls in Ferndale, New York. At Camp Shane, she taught nutrition classes every day and provided counseling to each camper. Rebecca has also developed nutrition curricula for the YWCA of New York City.
As Senior Dietitian, Rebecca shares her extensive background in clinical nutrition, food service systems management and community and public health nutrition with a diverse patient population. She counsels clients with a variety of nutrition goals including weight loss and management, diabetes, gastrointestinal disorders and cardiovascular disease, specializing in pre-, during and post-pregnancy nutrition, pediatric nutrition and eating disorders.
Rebecca's Tips for Dieting
Dilute juice with water.
Opt for single-serving snack packs rather than full-size packages.
Remember that most appropriate portions—an apple, a piece of chicken—can fit into the palm of your hand.
---