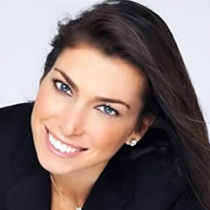 Tanya Z.
Registered Dietitian "RD"
Tanya Zuckerbrot knows the dirty little secret to losing weight and keeping it off: Fiber. The New York City dietitian is spreading the word and has gained a following that includes candy queen Dylan Lauren, Ugly Betty actress Ana Ortiz, Madison Avenue wild man Donny Deutsch, and jewelry designer Judith Ripka.
It's hard not to feel like a celebrity when you visit Tanya at F-Factor headquarters just south of Central Park. There's the all-white office with a lounge-y feel and ultra modern decor. There's Tanya's team of stiletto-clad beauties. There's the stream of society girls coming through the door.
Can fiber be sexy?
Apparently so. The sassy, smart, and of course, skinny entrepreneur developed her specialized diets several years ago for diabetic and heart disease patients. As a registered dietitian, Tanya's aim at the time was to improve patients' cholesterol and blood sugar levels, but the diets had an unexpected side effect: weight loss. Even better, patients slimmed down without hunger pangs.
It was then that Tanya realized that fiber, a zero-calorie food, allowed for weight loss without hunger.
This revelation led her to create the F-Factor Diet, a common-sense plan that advocates high-fiber foods and lean protein for easy—and sustained—weight-loss. No need to swear off going to Balthazar's, either; wine, cheese and other gastronomic pleasures are not necessarily verboten on Tanya's plan. In fact, Tanya firmly believes that clients should not have to change their lifestyle.
In 2007 the nutritionist penned The F-Factor Diet: Discover the Secret to Permanent Weight Loss, a book that quickly became a bestseller on Amazon.
Through all of Tanya's ventures one component has remained constant: she has always made sure her F-Factor dieters never felt like they were on a diet.
---