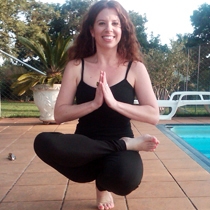 Denise N.
Yoga Instructor
Over the years, Bikram Yoga remained a pivotal part of Denise Nann's life. This passion and belief in the benefits of Bikram inspired this dedicated practitioner to train as an instructor in 2009.
After teaching at various studios throughout Manhattan, Denise is now ready to share many years of yoga fun with the students of Bikram Yoga Grand Central.
Bikram's Beginning Yoga Class is a 26-asana series designed to scientifically warm and stretch muscles, ligaments and tendons, in the order in which they should be stretched. Bikram Yoga's sequenced exercises systematically move fresh, oxygenated blood to one hundred percent of your body, to each organ and fiber, restoring all systems to healthy working order, just as nature intended. Proper weight, muscle tone, vibrant good health and a sense of well being will automatically follow.
Before there was Bikram, Denise spent the bulk of her career building a successful financial advisory services practice. She possesses extensive experience in all areas of marketing, customer acquisition and retention, accounting methods, financial reporting and private equity.
---
Certifications
Yoga Alliance