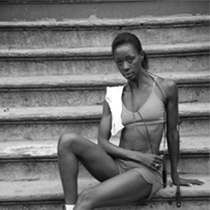 Claire M.
Personal Trainer "CES"
Born in Surrey, England, Claire Moore lived on three continents before the age of 10, speaks several languages and is familiar with many cultures. Her tough love (and encouragement) makes her one of the most popular trainers at Crunch Gym's Park Slope branch.
Some call her eclectic, but Claire doesn't mind being associated with diversity—not surprising for a woman whose career has included jumping hurdles and strutting the catwalk.
Before becoming a fitness trainer, Claire modeled at couture shows in Paris, Milan and London. As a professional athlete, her laurels include placing eighth in hurdles at the Canadian Nationals, among other awards in relays, basketball and volleyball.
At the gym, Claire puts clients through workouts that include boxing, kickboxing, self defense, corrective exercise training, and sports-specific training. Breath work, stretching and perfect form are crucial to one's fitness, she says.
Claire has a keen eye and understanding of what the body, mind and spirit need. Attuned to her client's needs, she strives to create the perfect exercise palette for each individual that she encounters. Claire's clients often joke that she has a nice voice but is a mean trainer. Claire's response? She takes this compliment like a loving mother who wants the best for her child.
---
Certifications
National Academy of Sports Medicine (NASM)