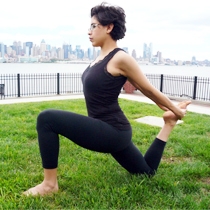 Melissa G.
Yoga Instructor
Melissa Gutierrez began practicing yoga in 2004, hoping to conquer her lifelong struggle with asthma. Breathing exercises, which are central to yoga, restored and healed this Smith College graduate. Today, Melissa works to do the same for others.
Melissa's yoga flows have energized New York City's most worn and weary residents. Private sessions—conducted in her intimate Chelsea studio or a client's home—go beyond relaxing poses alone. Work with Melissa one-on-one to discover ways to manage breathing difficulties and methods to mend and soothe the body. She might even throw in some Reiki massage work.
If you're looking for an amped-up yoga workout that delivers challenging, muscle-toning techniques, Melissa can do that too—as long as you promise to breathe. Every sequence is carefully tailored to provide a safe and engaging yoga practice that supports an individual client's unique movement patterns.
"It's paramount that I connect completely with each of my clients," says Melissa. "I can then create a unique experience for them that results in overall better physical, mental and emotional well-being."
---
Specialized Training
The International Center for Reiki Training, 2nd Degree Reiki, Pril 2011 (New York, NY)
NY-CPR and AED Certified by the American Heart Association, September 2010 (New York, NY)
Karuna Center for Yoga, Northampton, MA (200 hours)
Breathing Project's Yoga Anatomy and Application of Breath-Centered Yoga, March 2009 (200 hours)
The American Institute of Sanskrit, Introduction to Sanskrit, March 2009 (14-hour Immersion)