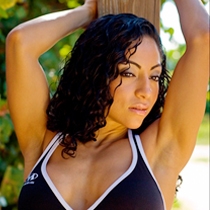 Carol M.
Personal Trainer
Carol Medina, owner of Dialed In Fitness in Plantation, Fla., believes that long-lasting results come from more than just exercise and cutting calories. A certified personal trainer and award-winning figure champion, she helps clients gain muscle, lose fat, improve endurance and feel better about themselves through adopting a positive mindset and the proper training techniques.
Originally from Peru, Carol moved to the United States at the age of six. Within a year, she was already doing push-ups and crunches in the hopes of becoming stronger and getting picked for an all-boys athletic team. Finally given the chance to play tackle football, she excelled in every way, scoring more than her teammates, easily dodging fellow players almost twice her size, and proving once and for all that she could do anything they could do better.
Taking pride in her athleticism, Carol sculpted her physique and eventually became a figure champion, winning regional and worldwide awards. She now helps men and women achieve bodies they once thought were never possible too, through weight training, cardiovascular exercise, core strengthening and nutritional advice. Offering sessions on a one-on-one basis, she also hosts boot camps and online seminars.
As part of her services, Carol provides education on supplements, proper strength training techniques and mental motivation. "Breaking bad habits is one of the most challenging things that one can face," she says. To do so, she works to replace bad habits with good ones, whether encouraging a client to improve poor food choices or eliminate negative thinking patterns.
---
Certifications
National Federation of Professional Trainers (NFPT)