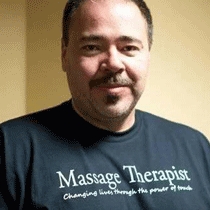 Daniel C.
Massage Therapist "LMT"
Licensed massage therapist Daniel Candelaria specializes in reducing pain and discomfort by treating chronic and acute conditions such as carpal tunnel syndrome, repetitive stress injuries and posture issues.
"I do clinical work as opposed to spa work," says Daniel. "What I like most about it is that I am able to help people feel better and expedite their healing process. I love that I can help clients feel more relaxed and pain free for a longer period of time."
Daniel's typical clients come to him seeking relief from lower back, shoulder and neck pain, as well as stress and insomnia. He strives to teach his clients how to live a healthier life day to day, and manage their pain efficiently and effectively.
Before the initial session, Daniel will perform an assessment of the client's posture and discuss past and present health concerns. Once he has located the original area of discomfort, he will customize a personal massage treatment plan.
---
Professional License
TX Lic. No. 116051
Certifications
Texas Department of Licensing and Regulation