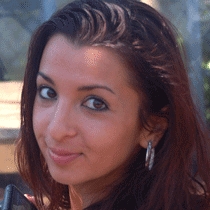 Marina S.
Massage Therapist "LMT"
Licensed massage therapist Marina has several years of professional experience in spa environments, medical offices and private practice. She has worked with chiropractors, personal trainers and physical therapists to address clients' needs with a unique and powerful approach.
"Whether I am helping someone to relax or seek relief from chronic pain, my work is always gratifying," says Marina.
Marina' sessions are based on the written/verbal intake she performs with each client. Her first goal is to address their areas of complaint, and to do so she develops customized therapeutic plans that address the individual's specific pain.
"I believe that the key to pain relief is understanding the cause of symptoms through assessment, treating the contracted fascia and muscle, and teaching the client self-care and prevention," Marina explains. " For example, in sessions where I am dealing with an injury I use PNF stretching, an effective way to improve the client's active and passive range of motion, decrease pain and strengthen the muscle."
---
Professional License
NYS license 024808
Certifications
New York State Board of Massage Therapy
Specialized Training
Swedish Institute College of Health Sciences, 2010 (New York, NY)
Current & Previous Employers
Caudalié Spa at the Plaza Hotel, Cornelia Spa at the Surrey Hotel, Method Fitness Club at The Hilton Hotel Spa, Spring Thyme Holistic Spa, AIRE Ancient Baths, Manhattan Wellness Group