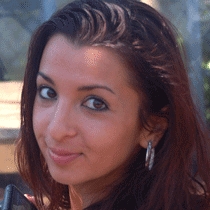 Marina S.
Massage Therapist "LMT"
Licensed massage therapist Marina has several years of professional experience in spa environments, medical offices and private practice. She has worked with chiropractors, personal trainers and physical therapists to address clients' needs with a unique and powerful approach.
Certified massage therapist Marina has been practicing for over 7 years. Since graduating from the Swedish Institute College of Health Sciences she has worked at high end spas such as Caudalie Spa at The Plaza Hotel and Cornelia Spa at the Surrey Hotel. Having worked with chiropractors, personal trainers, and physical therapists in the past, Lisa's experience allows her to provide a personalized and unique approach to the client. Lisa specializes in Deep Tissue, Myofascial, Swedish, Trigger Point, Neuromuscular Therapy, shiatsu, and sports massage.
---
Professional License
NYS license 024808
Certifications
New York State Board of Massage Therapy
Specialized Training
Swedish Institute College of Health Sciences, 2010 (New York, NY)
Current & Previous Employers
Caudalié Spa at the Plaza Hotel, Cornelia Spa at the Surrey Hotel, Method Fitness Club at The Hilton Hotel Spa, Spring Thyme Holistic Spa, AIRE Ancient Baths, Manhattan Wellness Group