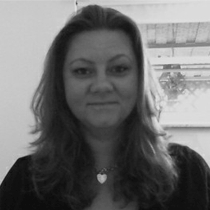 Angie B.
Massage Therapist "LMT"
Licensed massage therapist Angie Blair specializes in mindful relaxation, and as a mobile practitioner she is able to offer an enticing array of services right in the comfort and privacy of her clients' homes.
"Massage therapy is more than helping someone relax, it is about improving the way they feel," Angie says. "I believe that no one should leave a massage session feeling battered, but that they should experience balance, energy renewal and a relief of muscular tension."
Angie enjoys combining several advanced massage modalities to create a custom session as unique as her clients, structured around their goals for each massage session. She tends to attract clients who are very busy and value their time, and prefer not to waste it driving to the spa.
"I bring everything that's necessary for the massage session right to their front door," Angie explains. "All my clients need to do is relax."
Angie's motivation is helping others discover relief from their pain and stress, and brightening up their day. "I also love learning new techniques that can add an extra dimension to the massage and improve the health of my clients," she says.
---
Professional License
OH Lic. No. 030447
Certifications
Ohio State Medical Board
Specialized Training
Cincinnati School of Medical Massage, Cincinnati, OH, 2012