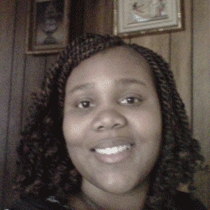 Saderia C.
Massage Therapist "CMT"
Certified massage therapist Saderia Cheatham is passionate about holistic healing and believes it is the heartfelt connection she brings to each and every massage session that makes her practice unique.
"I attract all types of clients from all walks of life," says Saderia. "Some just want to relax and some have chronic pain and are in need of relief." The client who has been with Saderia the longest suffers from chronic back pain and migraines. She began seeing Saderia while she was still in massage school and has been with her ever since.
"I teach my clients to take care of their minds, bodies and souls, and I always offer encouragement," Saderia says. "In a typical session with me they might share their feelings about their day, whether good or bad, and then relax."
Saderia uses the best quality equipment, including a professional table and chair, which she sterilizes after each use. Her facilities are safe and clean and promote relaxation.
"I love seeing my clients leave pain free and satisfied with their sessions," says Saderia. "I started in this field to help my mom and grandmother who both suffer from arthritis. I am glad that I truly love what I do, and that I'm able to help my family and friends to reduce their pain and stress."
---
Professional License
CMT
Certifications
Virginia Board of Nursing
Specialized Training
Southside Virginia Community College, Massage Therapy, 2012