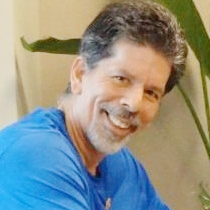 Tony D.
Massage Therapist "LMT"
In 2000, Reiki Master/Teacher Tony Damian founded "The Dragon's Way-Healing Arts" to bring guided meditations, medical chi-kung and energy healing to Central Connecticut. In 2012, as a licensed massage therapist, Tony brings "The Dragon's Way-Healing Arts" to the Altamonte Springs community.
"The body, mind and soul connection is vital to health, happiness and well-being," says Tony. "I believe the body has the ability to heal itself, once it is shown how. My philosophy is to connect the body, mind and soul and jump-start the healing process."
In his practice, Tony teaches his clients that their brains already possess the ability to release any chemicals the body needs, but can only activate this ability when they're aware of the need. "Working with other healthcare providers, I enhance my clients' healing processes through massage and energy work," Tony explains. "It cuts the healing time dramatically!"
Tony is no stranger to the pain and fear his clients might be experiencing when they embark on their healing journeys. After suffering a serious back injury, Tony was told he would be paralyzed within three years. Rather than accept this diagnosis, Tony set out on a quest for healing through complementary alternative medicine, including acupuncture and massage. 23 years later, Tony is happy and healthy, and says: "I found that my dharma, or mission, in this lifetime is to be a healer and teacher."
When he has free time, Tony enjoys volunteering chair massage for non-profit organizations and researching new massage and energy work modalities.
---
Professional License
NCBTMB Certified
FL Lic# 70024
Certifications
Florida Board of Massage Therapy
Specialized Training
Florida College of Natural Health, Massage Therapy, Maitland, FL, 2012