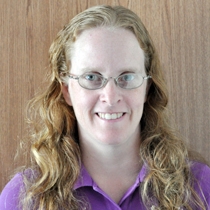 Katherine T.
Massage Therapist "LMT"
Katherine Turner is a licensed massage therapist and a mobile practitioner with more than six years of professional experience.
Katherine, who went to school in San Antonio, Texas, has worked with everyone from marathoners to workaholics to individuals who have to stand or sit for long periods of time. What she teaches all of her clients is that, no matter your background or age, massage can be a great advantage to anyone who receives it. Touting the medical benefits of bodywork, Katherine assures clients that, while it may take more than a single session to feel and see a difference, through regular therapy, it is possible to find lasting health and well-being.
Each session with Katherine is tailored to individual needs on any given day. For some clients, that means an extra stretch or the incorporation of resistance moves. For others, that means a massage so relaxing that all stress simply melts away; some clients even take a nap. Regardless of the type of massage, Katherine says that her favorite part of every session is noticing the difference in a client's physical disposition from start to finish.
---
Professional License
MT102437
Certifications
Texas Department of Health Services