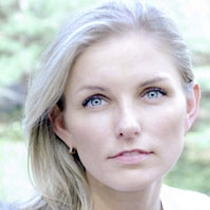 Agnes M.
Massage Therapist "LMT"
With "global expertise," licensed massage therapist Agnes Mlynarska established Teva Massage on Manhattan's West Side after graduating from the Swedish Institute College of Health Care in New York City.
Agnes' holistic approach to physical and mental wellness combines an integrative style of Eastern and Western forms of bodywork to facilitate each client's health and well-being. Whether someone who is dealing with physical discomfort, an athlete striving to maintain optimal performance, an individual who is trying to get back into shape or the quintessential workaholic who's placed too much strain on their neck, Agnes says she has the solution for you.
Agnes' open-minded attitude and high success rate come from a simple mantra that fuels her professional endeavors. "Before you talk," she says, "listen."
While there are of course many massage therapists throughout the island of Manhattan who "listen," Agnes says that what makes her different is that she treats all those she works with as more than just clients. "I want them to understand how their body works—what fosters their well-being, what causes their discomfort," she explains. "Therefore, I guide them in lessons that they can implement to improve physical and mental states. I show them techniques that will help alleviate their pain even when I'm not around. For me, it is really about healing the client in all aspects, making it a two-way path of communication."
Using techniques such as myofascial release and trigger point therapy, Agnes tunes in to her client's individual and special needs. Her passion comes from a "desire to help her clients with their chronic pain and unique bodily challenges," resulting in a session that is tailored to—and able to accomplish—particular wellness goals.
---
Professional License
024232-1
Certifications
New York State Board of Massage Therapy