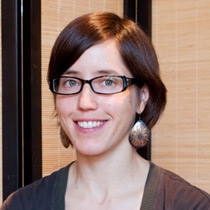 Grace R.
Acupuncturist "MS, LAc"
Licensed acupuncturist Grace Rollins believes that every individual has "a right to vibrant health." She strives to help patients achieve this through a comprehensive blend of nutrition, acupuncture, lifestyle adjustments and therapeutic support.
To Grace, the role of the practitioner is to empower patients and facilitate the healing process. Offering "the best of Eastern medicine" and a solid understanding of functional physiology and nutrition, she takes the time to get to know her clients individually, including their health and medical histories and their lifestyle habits and choices. "I want to listen to your story and tailor a treatment plan to your needs and comfort," she says.
Grace welcomes clients of all ages and backgrounds to her Doylestown practice, where she aims to "make concrete strides" toward each client's health goals, whether they are seeking to address physical symptoms, increase mental and emotional balance or enhance overall well-being. To accomplish this, she teaches the benefits of natural, gentle therapies like acupuncture and nutrition over more side effect, complication-prone alternatives like drugs and surgery. A proponent of a nutrient-dense, whole food diets (what she describes as "the backbone of good health"), she is also skilled in the application of moxibustion, shiatsu, cupping, gua sha and qi gong.
Throughout her career, Grace has worked with all sorts of clients, often treating weight loss, digestive disorders, autoimmune cases and chronic pain. Whether a client is dealing with an acute injury or mental and emotional imbalance, Grace provides detailed and individualized treatment plans geared toward sustainable goals. Her holistic approach to healthcare takes the entire body's wellness into account while addressing specific symptoms, because, as she puts it, "You deserve to feel great about your health."
---
Professional License
KO000623
Certifications
Pennsylvania Board of Osteopathic Examiners/Board of Medical Examiners