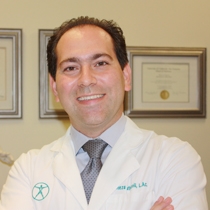 Reza T.
Acupuncturist "LAc"
Licensed acupuncturist Reza Tafazoli was awarded the Student Service Award in graduate school, and he has maintained his reputation for great service by providing professional, high quality acupuncture care to clients of all ages in the Irvine, Calif. community ever since.
"Most of our clients come to us through referrals," Reza says proudly. "It's our goal to relieve their discomfort in the fewest possible treatments."
Reza is committed to listening to the needs and concerns of each patient, and recognizing each patient as a whole person, rather than a collection of symptoms. Through a careful evaluation of the patient's medical history, Reza searches for the root cause of their pain or discomfort, then selects the most effective treatment based on this diagnosis.
In his practice, Reza integrates acupuncture, herbs, supplements, exercise and meditation to successfully treat a wide range of diseases. "Our office is very straight forward in letting our patients know what we can treat and what we cannot," he says. "We are very easy-going and most of our patients become our friends."
Reza's motivation comes from watching his patients recover. Because he believes that a quiet mind responds best to treatment, he teaches all patients a meditative breathing technique that many choose to use every day. "We are a very result-oriented clinic, and a happy and a satisfied patient means the most to all of us," Reza says.
---
Professional License
11603