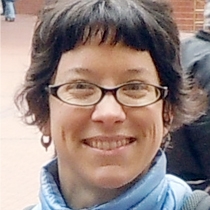 Jessica B.
Personal Trainer "CPT"
Certified personal trainer Jessica Beauchemin says she wasn't always healthy or athletic, but that pursuing activities like hiking and rock climbing have built her strength and endurance to the point where she's now in the best shape of her life and eager to share her hard-earned knowledge with others.
"My approach is focused on goal-setting and developing programming that fits the client's lifestyle," says Jessica. "Exercise should never be a chore. Training with me is fun, engaging, research-based and effective. I also coach my clients on nutrition, work-life balance, stress management and other healthy lifestyle choices."
Jessica says she works best with people who are returning to exercise after a break or who have never exercised at all. She is also happy to offer guidance to workout buffs seeking interesting new techniques to incorporate into a stale routine.
"I motivate my clients by finding out what really drives them," Jessica adds. "I work to enhance my clients' strengths and show them the potential to improve their weaknesses. I help my clients set goals and assess them on a regular basis so that what we do together is meaningful and fun!"
In her free time, Jessica loves to climb, snowshoe, backpack and camp. She appreciates the physical, mental and technological challenges of these activities and feels thankful to possess the health to enjoy them. "I can travel to places most people only see in postcards, and I love helping people achieve the same transformations in their own bodies," she says. "I feel that my passion and accumulated knowledge in health and wellness is best when it is shared with others."
---
Professional License
ACSM 705691
Certifications
American College of Sports Medicine (ACSM)