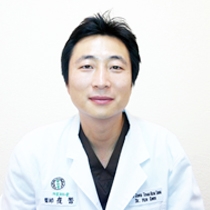 Min C.
Acupuncturist "LAc"
Taking a non-steroidal approach to treating skin conditions, Min Choi wants to help each client improve their immune system to become healthier and stronger in fighting off disease. A licensed acupuncturist and owner of the T.Y. Wellness Center in Los Angeles, Calif., he relies on years of experience to solve chronic problems and improve overall well-being.
Growing up in South Korea, Min says that he wanted to be a doctor since he was five years old. Eventually, he followed his dreams to China where he practiced at a large medical facility, often seeing up to 100 patients a day. Over the course of a decade, he treated thousands of individuals, many suffering from severe skin conditions such as acne, eczema and psoriasis.
Now a specialist in dermatological conditions, Min notes that individuals with skin disorders are also likely to suffer from depression, anxiety and emotional issues. His goal is to alleviate the symptoms of dermatological issues by finding the root cause of the problem.
Customized treatment varies according to each person's condition. Some will require acupuncture and herbal treatment on a session by session basis, while those with severe skin problems are treated with long-term protocols. With a step by step approach, Min strives to determine the initial cause, current disease status and best possible treatment path. Herbal medicine and supplements are often a primary means of treatment for skin problems, however acupuncture can also be combined as needed.
In addition to skin conditions, Min has ample experience in the treatment of auto accident victims, individuals with menstrual pain and those seeking help with weight loss programs. As part of his services, he offers body composition analysis during the initial consultation. The analyzer helps determine a client's body fat, lean body mass and water balance. With the California temperatures frequently causing dehydration and inflammation, Min recommends adequate water intake and eating healthy, whole foods.
---
Professional License
AC 13691
Certifications
California Acupuncture Board