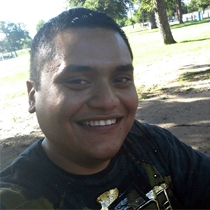 Fernando V.
Massage Therapist "LMT"
Licensed and self-described "rock star" massage therapist Fernando Villarreal invites new clients to breathe, exist and experience for themselves the benefits of natural, therapeutic massage.
"I ask that all my clients feel free to share their feedback or opinions with me at any time," says Fernando. "I am always interested to know how I can improve my practice. My goal is to make every client comfortable."
Fernando, a graduate of Rivercity School of Massage, is trained in a variety of massage modalities and is committed to providing them at the client's convenience and at an affordable price. Each session begins with a free consultation in which he encourages questions about the techniques and benefits of massage.
"My clientele consists of all sorts of people," Fernando says. "I pride myself on being flexible and working on a variety of issues." The most important thing Fernando teaches his new clients is the necessity of drinking water and stretching on a regular basis. "These two things alone have the capability to significantly reduce the body's reaction to stress," he explains.
When he's not engaged with clients, Fernando keeps busy supporting non-profit organizations such The Green Party, Goodwill Industries and standingonthesideoflove.com.
---
Professional License
MT113385
Certifications
Texas Department of Licensing and Regulation
Specialized Training
Rivercity School of Massage, Massage Therapy, San Antonio, TX, 2011