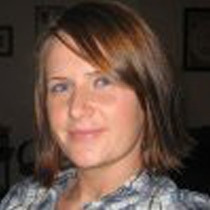 Nichole R.
Personal Trainer "CPT"
ACE and NASM certified personal trainer and nutrition specialist Nichole Rozendaal focuses her sessions on helping her clients get fit while learning how to maintain their health.
"My philosophy is that health should not be so 'extreme' or 'insane' that it can't be sustained or fit into a normal lifestyle," says Nichole. "My workouts are tough and effective, but doable, and can be modified to suit any fitness level. I believe that fitness is a lifelong journey, and everyone should know how to take care of their own bodies."
Nichole coaches both male and female clients between their 20's and 40's, though she is willing to work with any age. Generally, her clients are seeking to lose weight or improve their athletic performance. Nichole teaches her clients that there is no "one size fits all" approach, and that without proper eating, any exercise program is far less effective. "I help my clients find realistic solutions for their lives, whether it's modifying their current meals or adding in new foods and recipes," she says.
A typical session with Nichole includes circuit training with combo moves, such as a lunge with a bicep curl or a squat with a shoulder raise, along with cardio intervals. "I believe in working as many muscles as possible at once for maximum calorie burn in the least amount of time," she explains. Nichole also assigns her clients "homework" and checks in with them frequently to ensure they are staying on track between sessions.
"A big part of my training is education. I explain the exercises to my clients as we do them, and why they are effective," Nichole says. "After training with me, clients will know several different routines that they can do on their own. I also track progress in a variety of ways besides the scale, and I keep them updated on ways they've improved!"
---
Certifications
American Council on Exercise (ACE)