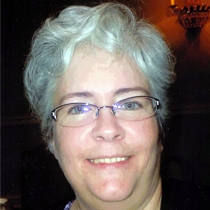 Diana S.
Massage Therapist "LMT"
Licensed and nationally certified massage therapist Diana Sponsler has seven years of experience and an impressive resume of training in massage and holistic wellness. She teaches all of her clients that prevention is always a better, and cheaper, option.
"I tell my clients to trust their instincts about what's wrong and work with their caregivers as an active partner in their own healing," says Diana. "In the long run it will save them both time and money."
For as long as she can remember, Diana says she has been drawn to massage. Facing a mid-life return to the workforce, she chose to pursue a massage career rather than refreshing her computer skills. "I love helping people feel better, and with injuries or chronic pain relief there is also the thrill of finding the cause and working towards a solution that helps the client enjoy a better quality of life," she explains. "I feel most successful when a client leaves with improved range of motion, reduced pain, reduced stress and, most notably, when concerns resolve that were not even part of our plan."
Diana's longest-running client came to her with severe damage to the discs of the lower back. After working with Diana for a while, the client became a raving supporter, and was consistently disappointed by other body workers. "The combination of techniques I use are well-suited for a number of conditions," Diana says. "I have helped many clients overcome frozen joints; the longest claim was 20 years, and it resolved within two sessions."
Though each session is unique and tailored to the individual client's needs, Diana always strives to incorporate techniques and understanding from her additional training that will enhance the client's experience and result in pain-free improvement in stress patterns and trauma. "The body has a miraculous ability to heal, and I enjoy the opportunity to facilitate that," she says.
---
Professional License
NY Lic. #018587
Certifications
New York State Board of Massage Therapy
National Certification Board for Therapeutic Massage and Bodywork
Specialized Training
Onondaga School of Therapeutic Massage, Syracuse, NY, 2005